Other
Status: Failed
CIRCUS HARMONY FLYING TRAPEZE CENTER: MINIMUM FUNDING NEEDED IS $6,000
Submitted By:
circuslady
on 02.18.13
circuslady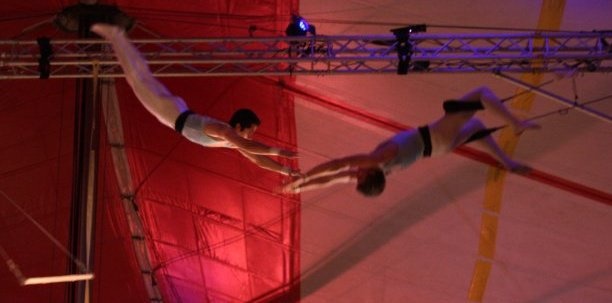 St. Louisans may already be familiar with Circus Harmony from seeing their high flying performances or taking classes at the City Museum downtown. Now they'll be taking their many years of circus teaching – and the people of St. Louis – to a higher level with the Circus Harmony Flying Trapeze Center. The Circus Harmony Flying Trapeze Center will be a St. Louis based Flying Trapeze Center where people of all ages will be able to break the bonds of gravity and soar through the air with the greatest of ease.
Flying trapeze centers are increasingly popular in New York City, Boston, Seattle & many other cities. This is a fun and exciting way to stay fit, have fun and finally fulfill your dream of flying. This venture will serve as a place for recreational flying and will also help fund Circus Harmony's social circus programs – where they use circus arts to motivate social change.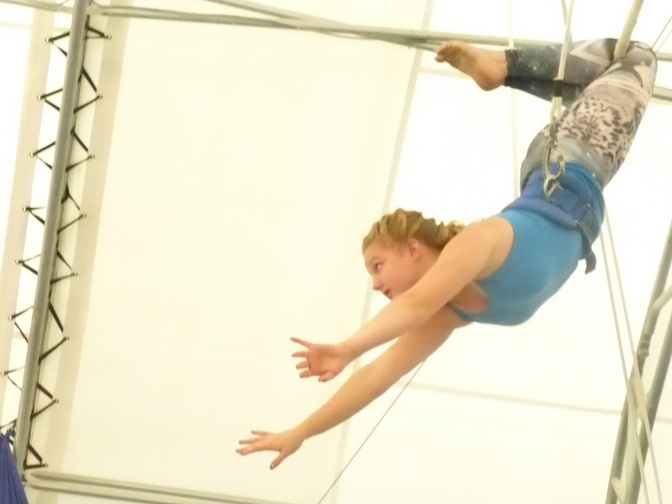 The Center has already been awarded a number of amazing grants for their work from the YouthBridge Social Enterprise and Innovation Competition, Regional Arts Commission & Daughters of Charity Foundation of St. Louis, but it's not enough! The upcoming Grand Opening at Union Station in April 2014 is fast approaching and in order to fully function, they need the following items:
Preparing box truck to serve as dressing room and office: No phone booths are available these days to change into your super hero costume before you fly. So, please help us turn our old box truck into s spiffy locker room and office. You'll be able to strip down and suit up into your flying togs. No cape needed to fly! Keep your stuff safe while you fly, pay and schedule classes and buy fly wear in the tricked out box truck that YOU help make into a mini magical locker room! -- $6,000
Video playback system: Professional athletes will tell you that video feedback is the best way to train. This system will allow your flight to be shown in "instant replay" so you can watch yourself and get coaching in the most beneficial way possible. You will also be able to get a cd (like a video postcard!) of your flight to take home as a souvenir--- or as proof of your super hero abilities! -- $2,500
Bleachers: Bleachers will provide a comfortable place for you fans and family to watch you defy gravity. You can also learn a lot by sitting and watching others fly, as well. Support a place for the audience to perch on the ground while you are flying through the air. -- $2,000
Mats: Mats are needed to set up around the high and low rigging. Having mats on the ground around the rigging will also provide a comfortable place to warm up and condition. Support a soft landing! -- $2,000
Free standing low trapeze rig for warm up and practice: Before and after you're up in the air, it can be very helpful to go through the motions at a height where a coach can help place you in the correct positions. Practice before you go up and make needed corrections after each flight. Funding this apparatus will help maximize your class time and increase your learning time. -- $1,500
Other aerial rigging for additional classes (Lyra, trapeze, silks): Ready to branch out and learn other gravity defying techniques? We'd like to offer classes in a variety of aerial arts including static trapeze, lyra and silks. Help fund aerial options! -- $1,000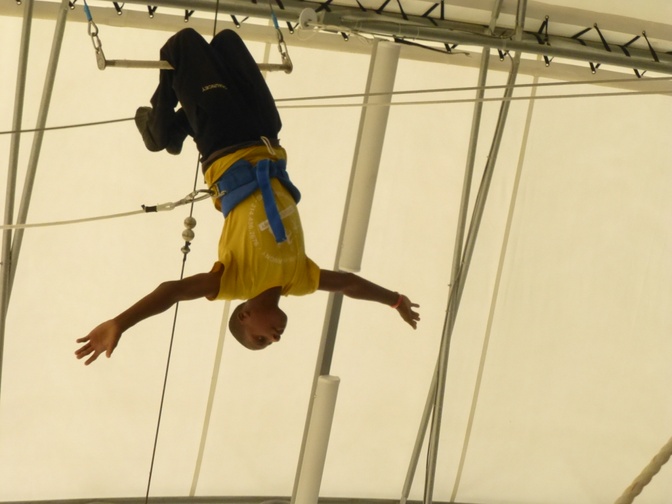 We hope to fund as many of these items as we can for the Flying Trapeze Center, and in an effort to make sure that happens, we're doing things a little differently this time around. Funding will be set up in a series of "levels" for each of these items they still need. Once the funding goal for each level or item is achieved, they'll move on to the next level and try to obtain funding for another item. With the project broken up into smaller parts like this, it guarantees that Circus Harmony will be able to get at least some of these items, even if they don't raise the full $15,000 that they need.
Circus Harmony alumn, Matt Viverito, seen below with High Flying Pages Trapeze Act, will be teaching at the rig.