The Arts
Status: Approved
ReGen StL Bicycle Generators: $3,000.00
Submitted By:
ReGen StL
on 03.12.13
ReGen StL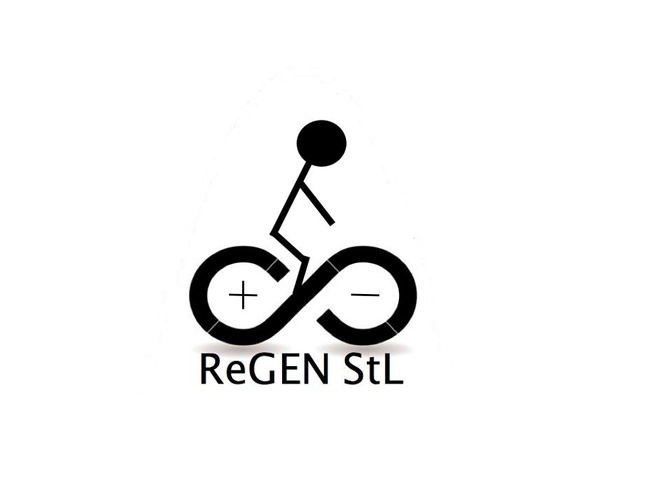 A St. Louis, MO non-profit organization focusing on projects that rehabilitate city neighborhoods through building restoration and public works projects in emerging districts with a aim towards growth and revitalization. ReGen StL utilizes music, art and film events to generate resources that will be re-invested in these distinctive St. Louis regions. Unique to our approach, our entire event programming will be enabled exclusively by people power. Community pride and enthusiasm will be translated directly in to electricity for each event using bicycle-powered generators driven by event supporters, creating a direct conduit between artist creativity and the collective energy of patrons and neighborhood stakeholders. This relationship produces a reciprocal and regenerative cycle that produces both cultural and tangible benefits for each group. Among these benefits are development of deeper community roots, direct participation in the arts, heightened sense of local impact, creation healthier neighborhoods and shared investment in a common future. At its core, our mission is to create ongoing and self-sustaining events that promote self-sustaining communities.
How Does It Work: Your contribution here will directly support our ability to purchase the initial generators needed to begin holding regular and recurring film, music and arts events that are powered by the community. Once these are secured through RallyStL and other local funding sources, we plan to generate revenue for our revitalization projects by not only applying for grants but also by implementing a novel "Watts to Dollars" donation system that will translate the invested sweat equity of patrons into capital that can be reinvested into the community using wattage monitors. Under this system, everybody from individuals all the way up to large entIities will be enabled to sponsor patrons to contribute their energy by riding the bicycles and therefore enabling a broad spectrum of arts events as well as neighborhood restoration. For example, an individual could pledge 1 cent per 100 watt generated by the community or a larger corporation could pledge $1 per 100 watts. The community will then be able to monitor their progress towards realizing a project via a real time tracking website and smartphone application.
Why It Matters: While this project is currently in its inception phases, we would very much appreciate your support in helping to launch to this unique project that will significantly contribute not only to the ongoing reinvigoration of some of St. Louis' oldest historic neighborhoods but also to the cultivation of some of the most innovative art in the nation. Having shared our vision with a number of arts, entrepreneurial and philanthropic organizations in St. Louis and receiving enthusiastic responses, we firmly believe that our concept will translate into real world benefits for St. Louis and has the ability to spread to other cities in the region. Gaining the support of St. Louis' artists and arts supporters for ReGen StL is an important step towards initiating our project and your contribution represents a fundamental vote of confidence that puts us that much closer to the success of our mission. We believe that your participation will also provide confidence to other grant-giving entities by demonstrating that we have the backing of the very people we hope to showcase and support.