Sustainability
Status: Funded
FOOD ROOF: Minimum Funding Needed is $25,000
Submitted By:
Urban Harvest STL
on 12.03.12
Urban Harvest STL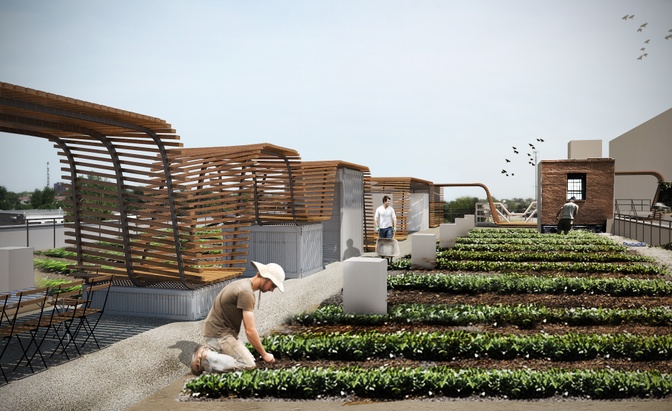 The FOOD ROOF will be the first of its kind Rooftop Farm in St. Louis! This community rooftop farm will be situated downtown in the heart of city life and will create a new system of providing our community with access to hyper-local, organic food.
This is not just community garden, but a platform to sustain an entire ecosystem which includes raising chickens and tending bees, and innovative approaches to urban agriculture including hydroponics, aeroponics and vertical farming. The FOOD ROOF is envisioned to be a community platform, actively engaging and educating city dwellers of all walks on the ins and outs of a local food system. In order to do this the rooftop will include an outdoor classroom and gathering space for community events and outreach. The site and proposed design strives to elevate an otherwise normal urban experience into a transformational perspective on the possibilities which abound when fully integrated sustainable thinking is embraced.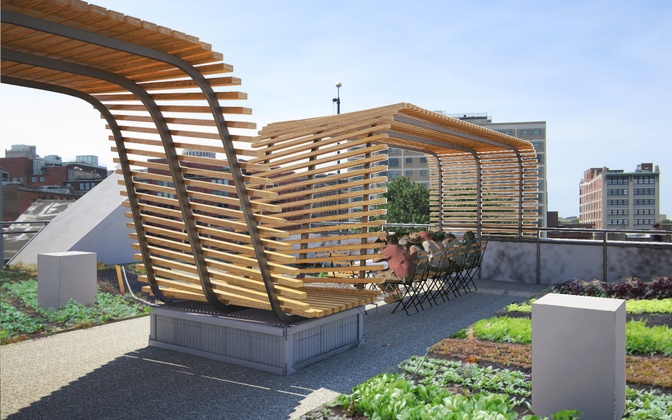 We are hoping to raise a minimum of $25,000 in order to be able to build out phase 1, half the rooftop farm. We have also outlined steps to our ultimate goal of $65,000.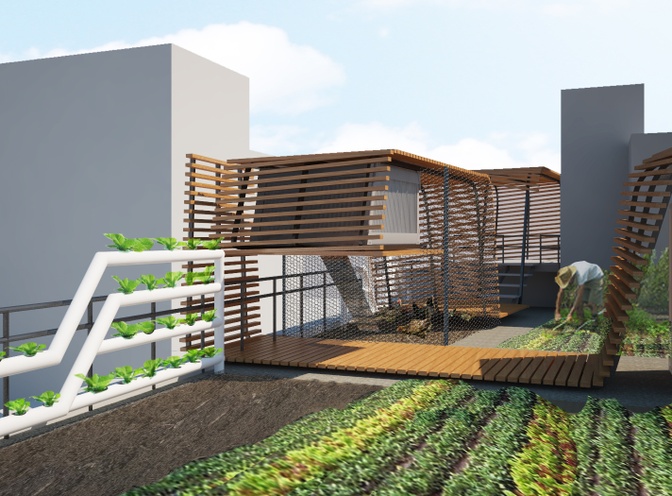 $25,000 This is for Phase 1, and will help us build about half of the rooftop farm. This includes a green roof system and soil, and bare minimum tools and infrastructure. Plus, with these funds, we'll be able to buy a few bee boxes to ensure our crops are pollinated, not to mention boosting biodiversity in downtown St. Louis—and that's good for everyone.
$35,000 With $35k, we can also build a chicken coop and raise chickens. This level of funding also enables us to add some hydroponic towers and other experimental rooftop technologies so that we can demonstrate various models of growing food in the city – models which can be replicated elsewhere.
$45,000 With $45k, we can build an outdoor education program and create a shaded, rooftop community gathering space (include seating). This space will enable us to reach out to the community and host workshops and events making the FOOD ROOF an exciting downtown destination.
$65,000 With $65k, we can build Phase 2, which includes all the infrastructure of the FOOD ROOF to transform the entire rooftop into a fully functioning farm and model for urban agriculture. We'll also be able to add additional infrastructure such as a cold room for produce storage, a greenhouse, drip irrigation, mobile shade structures and an outdoor demonstration kitchenette.
You've heard of the 50 mile salad, we are talking the scale of a 5 block emission-free salad! Residents can walk one block to the rooftop to pick up a CSA share and hyper-local produce can be bicycle delivered to the numerous restaurants on Washington Avenue mere blocks away. It does not get more sustainable than this. Our broader vision is converting more of St. Louis's unused rooftops into other FOOD ROOF satellites. This business model has many environmental and community benefits, but most of all it engages people in the process so people get to know their urban farmer, learn where their food comes from, and become involved.
We are all part of the local food system, we are all part of the solution. This is a movement for everyone – if you eat, you're in! Thank you for your support!