The Arts
Status: Failed
mushmaus Artist Residency: $5,750
Submitted By:
Krutie
on 12.01.12
Krutie
mushmaus is an idea to create an artist residency in St Louis, which offers time, ample space, and a stipend for DIY conceptual visual communicators to realize big ideas and to encourage an elevated dialogue about work completed at mushmaus between Saint Louis artists, in-residence artists, and members of the community. mushmaus promotes and facilitates the exploration and cultivation of installation, cross-media, new-media, or other trans-formative endeavors though collaborations, interactions, performances, meetings, exhibitions, lectures, publications, and more.
The residency program at mushmaus provides a unique, intimate experience for two up-and-coming or established artists to explore their ideas in over 7500 square feet of warehouse space over the course of eight weeks. It embraces the DIY sentiment of the Saint Louis creative community and encourages residents to network to find what they need to complete their projects. By inviting one artist from Saint Louis to explore their ideas with an artist residing outside Saint Louis, mushmaus simultaneously focuses on the particularities of this city while providing both artists and the audience a broader context in which to engage an art dialogue. Facilitating this exchange will undoubtedly enhance the profile of Saint Louis's creative community.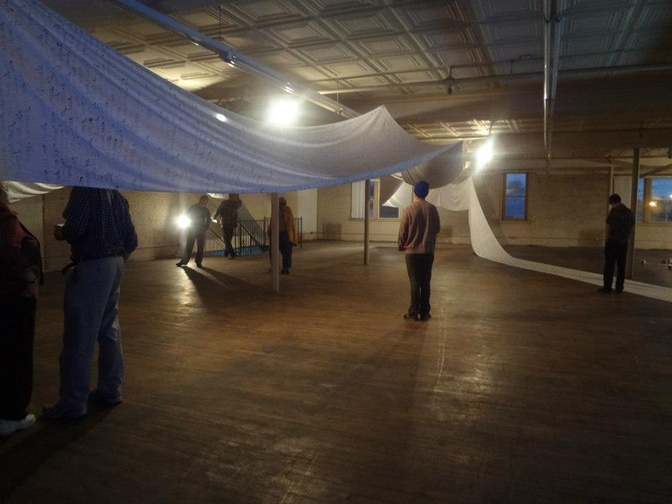 GENERAL iNFO: LOCATION: mushmaus, a 7500 square foot warehouse space with a tradition as an artist live-work space and venue [formerly Pig Slop] on Cherokee Street in Saint Louis, MO. The street is home to a vibrant art community, which is built up of community spaces, studio spaces, art galleries, music venues, independent print shops, a film production company, independent artisan shops, bakeries, coffee shops, Mexican shops and restaurants, and more. The warehouse space allows for wear and tear, so the artist need not worry about many restrictions (TBD). It is an ideal space to put on performances or productions or bang out large sculptures and installations. The space is lit with fluorescent lights, and has wonderful window light in the day. Unfortunately, the temperature of this building is not regulated, so the artists must be able to handle fluctuating temperatures. ELIGIBILITY: Conceptual artists, scholars, writers, musicians, designers who communicate creatively with preference given to those with the intent to transform or utilize the vast space in an innovative way. Must be willing to work in a facility that is not climate controlled. Must be willing to forgo some in-house studio time for special events and performances. STUDIOS AND SPECIAL EQUIPMENT: Mamiya medium format camera, small darkroom(?), wood shop(?), litho press (?), projector, $750, 2-3 mobile walls $300, flyers/marketing $150, 7500 square foot studio/exhibition/workshop/live space. $600( stipend for Saint Louis artist). $1000 stipend for out of town artist. Yearly stipend=$3,200. We would also like to apply for our 501c3 . HOUSING, MEALS, OTHER FACILITIES, AND SERVICES: Housing: Shared communal housing in room behind exhibition space, two shared bathrooms, some furnishings and linens provided. Meals: Full kitchen available. Laundry: Free laundry facility. ARTISTS RESPONSIBLE FOR: Food, travel, materials. These costs may be offset by stipend if specified in resident's budget. [Note: At the end of the residency, any reusable materials, from excess fabric to film, to equipment and tools, bought with the stipend must stay at mushmaus for use by future residents. These items will also be available for checkout by artists in the community].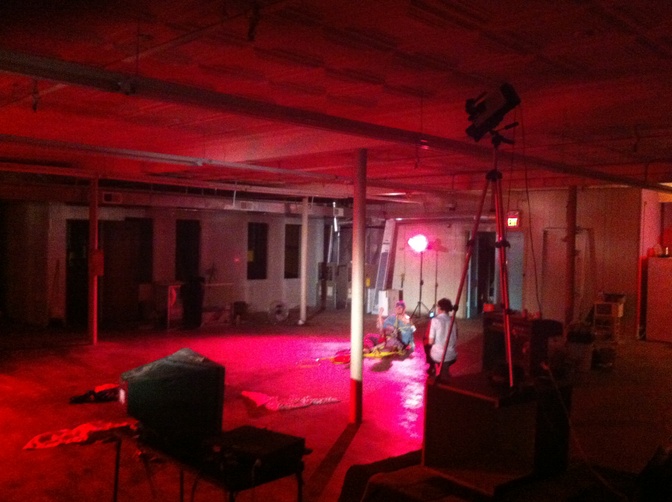 ELEMENTS of the RESIDENCY: WRITING, STARTING DIALOGUES mushmaus will invite at least one artist, one writer, one academic, and any other interested community member to write about the residents' final works (in any capacity, whether it be a description of how a memory is conjured by the work, a poem, a critique, a vivid description, anything as long as it connects on some level with the projects). These writings, as well as visual documentation of the works, and the artists' final assessment will be compiled and distributed at the reception. The last week of each residency session will be dedicated to this project with the intent to maintain an elevated art dialogue within the community sans formal institutional constructs, and to enrich our community with the infusion of new ideas. INTERACTION, EXCHANGE mushmaus will personally connect the artists to the local resources that Saint Louis has to offer through numerous meetings, social gatherings, and exhibitions. Artists are encouraged to use resources and connections made to ensure the fulfillment of their projects. If their projects lend themselves to it, artists can choose to collaborate. mushmaus intends to foster an environment of cultural exchange allowing both artists to take what they have learned to enrich their respective communities. MUSIC, EVENTS, PERFORMANCES Throughout the residency, there may be music events and performances hosted in the unused main space. They are often times artists whose unconventional music, unorthodox performances or lack of connections prevents them from performing in a conventional venue. mushmaus hopes to carry on the philosophy and spirit of the notorious DIY venue, Pig Slop Studios, and continue to support these artists with the additional purpose of maintaining unique cultural exchanges between the touring artists the artists in-residence.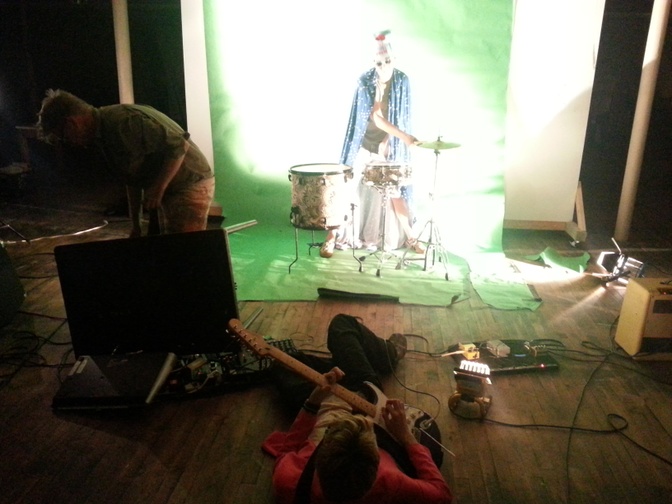 Budget: We're estimating $5,750 to include residency & funding for artists/musicians, and catalog printing and production. Thank you!